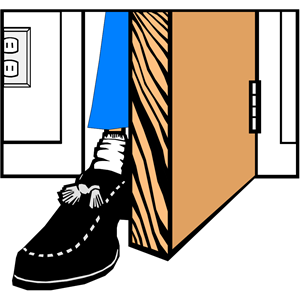 HOW DID MIMES GET THEIR FOOT THROUGH THE DOOR?
WHAT IS A PRACTICE CONNECTED TO SIN, PERVERSION AND THE WORSHIP OF FALSE GODS DOING IN THE SANCTUARY OF THE LORD JESUS CHRIST?
A possible answer to the aforementioned question could be that the gatekeepers are missing in action, they have been silenced by the majority or are lacking in discernment. What are Gatekeepers? Gatekeepers are Watchmen! They "protect" the Lord's house and keep His people on the right path. As prayer warriors and intercessors, they make sure that nothing unholy enters God's house.
Today's gatekeepers are easy to recognize because they boldly speak against the sins of the church--even if it means they will be mocked, hated or put out of the church! Sometimes the gatekeeper is the "old school" praying "church mother" who believes in holy living separate from the world. The gatekeeper also reminds us to be ready for the return of the Lord.
GATE KEEPERS MAKE A DIFFERENCE
For thus hath the Lord said unto me, Go, set a watchman, let him declare what he seeth. Isaiah 26:1
But the natural man receiveth not the things of the Spirit of God: for they are foolishness unto him: neither can he know [them], because they are spiritually discerned. I Corinthians 2:14
For the time is coming when people will not endure sound teaching, but having itching ears they will accumulate for themselves teachers to suit their own passions, and will turn away from listening to the truth and wander off into myths. II Timothy 4:3-4